January 30th, 2019 | by Kim Brune | Posted in Uncategorized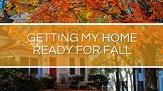 Seal the exterior of your home ~ Grab a couple of tubes of color-matched exterior and make a journey around your home's exterior, sealing up cracks between trim and siding, around window and door frames, and where pipes and wires enter your house. Preventing moisture from getting inside your walls is one of the least expensive — and most important — of your fall maintenance jobs. You'll also seal air leaks that waste energy.
De-Gunk your gutters~ Clogged rain gutters can cause ice dams, which can lead to expensive repairs. After the leaves have fallen, clean your gutters to remove leaves, twigs, and gunk. Make sure gutters aren't sagging and trapping water; tighten gutter hangers and downspout brackets. Replace any worn or damaged gutters and downspouts. Ensure your downspouts extensions are installed and guide water away from the foundation.
Eyeball Your Roof~ Stay safe and use binoculars to inspect your roof from the ground. Look for warning signs: Shingles that are buckled, cracked, or missing; rust spots on flashing. Any loose, damaged, or missing shingles should be replaced immediately. Black algae stains are just cosmetic. A plumbing vent stack usually is flashed with a rubber collar — called a boot — that may crack or loosen over time. They'll wear out before your roof does, so make sure they're in good shape.
Direct Your Drainage~ Take a close look at the soil around your foundation and make sure it slopes away from your house at least 6 vertical inches over 10 feet. That way, you'll keep water from soaking the soils around your foundation, which could lead to cracks and leaks. Be sure soil doesn't touch your siding.
Check Your Furnace~ Schedule an appointment with Mike Bryant Heating & Cooling or other professional to get your heating system checked and tuned up for the coming heating season. Change your furnace filters, too. This is a job you should do every two months anyway, but if you haven't, now's the time. If your HVAC includes a built-in humidifier, make sure the contractor replaces that filter. Monitor the humidity in your house and start thinking about when you want to operate the humidifier. The water valve, (usually found high on the water heater), will need to be in the open position and the humidifier damper turned to the winter position. Make sure you keep the humidity in the proper range, as recommended by the HVAC contractor.
Prune Plants~ Late fall is the best time to prune plants and trees — when the summer growth cycle is over. Your goal is to keep limbs and branches at least 3 feet from your house so moisture won't drip onto roofing and siding, and to prevent damage to your house exterior during high winds.Don't Let Your Pipes FreezeWith extreme cold weather conditions, your pipes may run the risk of freezing up and even bursting. You can help protect your pipes by simply letting them drip lightly throughout the night when the temperatures are the coldest. Leave cabinet doors open under your sink to allow warm air to reach the pipes (kitchen, bathrooms, basement bars, etc).
Remember to keep your garage doors closed. Don't leave the garage door open while running an errand, picking up carpool, or just by accident. Exposure to the extreme cold will contribute to pipes freezing adjacent to your garage walls or ceiling.
Keep Your Outdoor Walkways Free of Slippery Conditions
If you know that your driveway, steps or sidewalks run the risk of icing over, remember to use sand for traction. Do not use salt or chemicals and do not chip the ice with a shovel. *********************