October 5th, 2016 | by Kim Brune | Posted in Uncategorized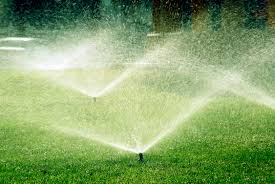 It's that time of year again…. Freezing temperatures, which damage your lawn irrigation system are forecasted for the very near future. It's time to winterize your lawn irrigation system. Thankfully, your JECH home offers you the ability to do this without paying someone to come and do it for you.
Below, we have provided step by step instructions. These instructions are also installed near the shutoffs on homes built with us since 2012. You should be able to find them near the shutoff, which is located near the main water shut off in the basement. If it is missing, follow the detailed instructions below.
1. Turn the blue sprinkler shut off valve in the basement to the "OFF" position (90 degrees out away from in line with the water pipe).
2. With sprinkler control box in the garage in the "RUN" position, press and hold the right arrow (with the little hand on it) until the system starts running the first zone.
3. Let the system run through all zones (at least 10 minutes per zone).
4. After all zones have been run through, turn the sprinkler control dial to the "OFF" position.
Your sprinkler system is now winterized! If this doesn't work or you have questions, please contact Organic Warehouse. 913-681-2667